February 5, 2021 
SUNSHINE WINE & FOOTBALL, I MEAN TACOS.  
So how are you doing? Scale of 1 to 10, we are about a 6 this week. In the final stages or re-doing our 2021 and 2022 planning and gathering our Spring 2021 Wine Release details. To think when we began Smith Story Wine Cellars in 2014 that we had no idea wildfires, a global pandemic and oversees wine tariffs would affect our small business! Whew, it's at least a Sundance movie in the making.  
Many of you have asked when our next German wines will release. That's a great question, and one that Eric Asimov of the NYTimes wrote about yesterday too. Our price integrity is at stake with the added tariffs, but know we are working hard to find a solution for our beloved Riesling and Rosé of Pinot Noir from the Rheingau!  We remain hopeful and also have a custom "cuvee" wine in the works that we believe you are going to fall in love with soon.  
Until then, remember your loved ones this upcoming Valentine's Day. I think this year in particular we could all use a extra pour of love in our lives.  If you are local and not heading to Tahoe this month, please come see us in the Anderson Valley. The forecast is sunshine and wine. Please reserve your tasting with us on Tock or you are welcome to stop in for wine shopping without an appt. We're open next week for the entire holiday weekend and on President's Day too.  
Cheers to a delicious Superbowl Sunday, what's cooking?  Here's a delicious standby at our house that goes well with just about any Smith Story wine and a cold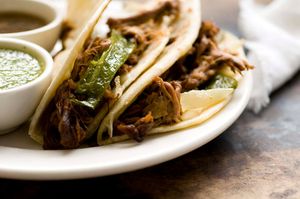 beer of course. Brisket Tacos from the cookbook Homesick Texan. 
Peace and Love,  
Ali Story