July 8, 2021 
Dear Friends of Smith Story Wine Cellars, 
Oh what a year! We are sorry to inform you that our Summer Open House this Saturday is postponed and our tasting room will be closed through next Wednesday. During routine blood work, Ali received a Covid positive test result. We are now awaiting 2 more results, certain it was a false positive, the timing could not be worse! 
Since day one back in 2014 we promised to share our authentic story, not only as a husband wife team but as entrepreneurs leading a brand new winery. Bumps in the road along the way have happened, we're racking this one up as another and know it'll be behind us quickly. Oh yes, we're frankly sick of the bumps! 
To make up for closing this weekend, please take advantage of 10% off 6 bottles of Smith Story Wines or more. Please us the discount code: openhouse upon checkout. 
If placing an order on your mobile, please click on the green "show your summary" to apply the discount code. If you are a member of The Storytellers, this 10% discount is in addition to your usual membership benefits. 
Offer ends on Sunday 7/11/2021 at midnight. 
2018 Sauvignon Blanc Sonoma County, 89pts. Vinous.com $30 
2017 Helluva Vineyard Pinot Noir, Anderson Valley. 91pts. Vinous.com $48 
2016 Pickberry Vineyard, Cabernet Sauvignon, Sonoma Mountain. 93pts. Vinous.com $75 
2017 Pickberry Vineyard Merlot, Sonoma Mountain (not rated but is GLORIOUS!). $58 
NICE SCORE! 
Virginie Boone, Contributing Editor for Wine Enthusiast gave an outstanding 92pts. for our 2019 Sauvignon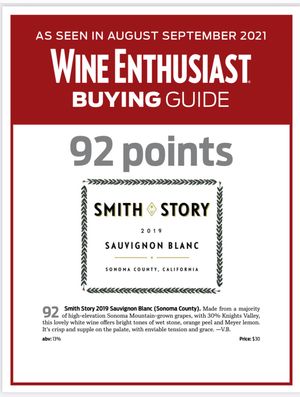 Blanc. "Made from a majority of high-elevation Sonoma Mountain grown grapes, with 30% Knights Valley, this lovely white wine offers bright tones of wet stone, orange peel and Meyer lemon. It's crisp and supple on the palate, with enviable tension and grace". Well, that sounds exactly like Ali's favorite child indeed, another home run for our beloved Sauvignon Blanc. 
Thank you all so much for allowing us to do what we love so much. Smith Story Wine Cellars continues to thrive due to your support. 
Peace and Love, 
Eric & Ali 
PS: is this email being read by your people too? Please forward along to your favorite wine loving friends, family and coworkers and help Share the Smith Story. Also!!! Summer shipping… heat is no friend of wine. You now have the delivery option to select "UPS Ground Hold for Fall Weather" or Anderson Valley pick-up of course.  
**** Signature by someone over the age of 21 is required.****