"Inner Beauty, it IS what matters most Ali". 
I've been told this over and over and over during this unreal time battling breast cancer that sucks away all a woman's outward beauty is seems. It's quite maddening. I think I have about 20% of my thick curly locks hanging on, eye lashes and eyebrows are next. Insert annoying eye-roll here. Fall weather can not come fast enough. Between wearing a mask, a ball cap and sneakers this summer, I'm beyond over the warm weather.
This inner beauty theme though. Eric and I tell ourself often that the wine inside the bottle is what matters most to our family winery. It's also what I remind myself of over and over while making design choices for our new Healdsburg tasting room location. The consistent quality of Smith Story Wine Cellars wine offerings is what impresses and keeps us all coming back for more. Less is more. The new location is going to be very calming with natural materials and elements. 
This 2021 Fall Wine Release is no different. 
This 7th Fall wine release includes our new Smith Story Sparkling Brut in time for holiday sipping and gift giving. Storyteller Wine Club members are able to purchase at $34 too. A beautiful luxurious blend of Pinot Noir and Chardonnay made to make everyone smile. As far as the 2018 Cabernet Franc, it's very much our signature style, bright and balanced, just how we love it. The 2018 Pickberry Cabernet Sauvignon, it's one for the ages. The 2018 vintage was in tank and barrel before the wildfires (again), I can still feel the nervousness of this harvest and recall how absolutely thankful we felt since our fruit was in the cellar and smelling like a dream. Please make your purchase online before Thursday, this offering is not a big one.
Harvest Happenings
Harvest 2021 has begun, our stunning mountain top Sauvignon Blanc is in, a lighter crop this year due to the draught. We pick the famed Olivet Lane Chardonnay vineyard tomorrow night, hoping for a full 4 tons that will turn into glorious Russian River Valley chardonnay after a few months in barrel. Our red grapes are not quite ready, we continue to sample and taste every few days while thanking our lucky stars for fire-free conditions here in Sonoma County and the Anderson Valley. A first since 2016!  We refuse to allow the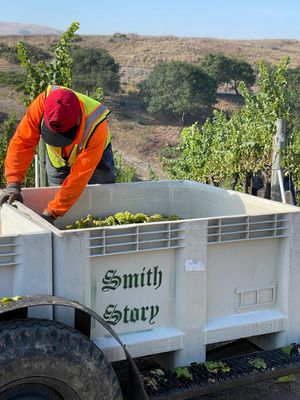 anxiety of the past 5 years in particularly get the best of us. So much good news ahead for Smith Story Wine Cellars! 
Now back to our new tasting room Healdsburg location...stay tuned for a soft opening in the coming weeks. It's a dream to be on Westside Road! We await our permit to transfer then fill the place with all of you. An exciting time, I'll be the one cranking the air conditioning down and adding a rather large ceiling fan too. 
Thank you so very much for cheering us on. I'm feeling very strong and totally weird, thank you so very much for all your kindness and allowing me to share my story, it's a victorious one indeed. 
Peace and Love, 
Ali Story