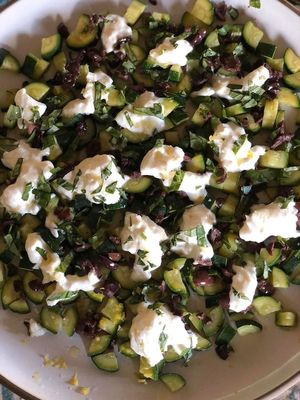 🍋 One of our favorite spring & summer sides, pairs perfectly with our Smith Story Sauvignon Blanc! 🍋 (All steps are pictured on our Instagram page) 
Mediterranean Zucchini Salad
INGREDIENTS
4 -6 cups of quartered zucchini
10-20 Nicoise pitted olives (yes make sure they are Nicoise!)
1 fresh round of Burrata cheese (can sub with Feta)
1 lemon
1/2 cup of chopped fresh basil
2 tablespoons of olive oil 
pinch of salt for steaming water
INSTRUCTIONS
-Clean and quarter zucchini
-Place in a skillet with thin boiling water (add pinch of salt), steam until tender.
-Remove zucchini to cool on platter.
-Dice Nicoise olives, sprinkle over zucchini while cooling on platter.
-Pull pieces of burrata cheese and place on top of zucchini & olives on platter.
-Squeeze a little fresh lemon juice over platter.
-Chop and sprinkle fresh basil over platter.
-Drizzle olive oil over platter.
-Place in refrigerator for at least 15 minutes to cool.
(throw in any leftovers to fresh pasta served hot!). 
---
EATS
GIMME A BEET!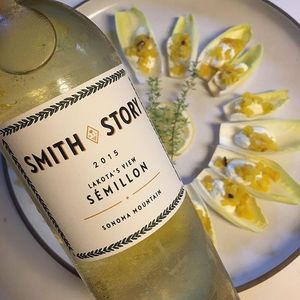 Eric recently made the most wonderful appetizers to pair with our 2015 "Lakota's View" Sémillon. Don't let the word "beet" scare you like it does Ali...these can also be made without. 
12 oz. ricotta 
3-5 golden beets (though you can use any variety)
pinch of salt 
pinch of freshly ground black pepper 
24 white Belgian endive spears, about 2½ inches long (3 or 4 heads endive) 
2 lemons 
2 tablespoons of chopped lemon thyme
Preheat the oven to 425 degrees, line a baking sheet with parchment paper. Remove leaves and stems, trim root tips of beets and chop into little cubes.Toss the beets, olive oil, and thyme in a bowl until beets are coated, and arrange pieces of beet on baking sheet so that they don't touch. Sprinkle the beets with sea salt. Roast in the preheated oven until the beets are tender, 10 to 20 minutes. A fork inserted into a beet cube should come out easily.Taste for salt and season with pepper. 

In a mixing bowl, combine the ricotta, lemon thyme, salt and pepper, and keep chilled. Gently rinse the endive spears under cold running water and then wipe them dry with a paper towel.
Lay the endive spears on a clean platter. Scoop the ricotta with a teaspoon and place in the middle of each spear, using another teaspoon to help push off the ricotta onto the spear. Scoop a spoonful of the beets onto the ricotta. Using a microplane or fine grater, grate zest from the lemons over the beets, ricotta and endive spears. Serve chilled. This appetizer can be prepared up to 3 hours in advance and kept loosely covered in the refrigerator. Makes 24 spears (or serves 8).
 
---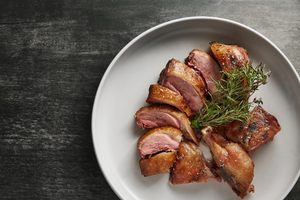 A Perfect Smith Story Wine Cellars Pinot Noir Pairing...Liberty Ducks!
A few months ago, our friend Jennifer Reichardt waltzed over to our tasting table at a Sonoma County fundraiser with a plate stacked full of sliced Liberty Duck hot off the grill. Her Dad Jim, the owner of Liberty Duck was behind the BBQ making his usual duck breast magic happen. It was our first time to have the
2014 Helluva Vineyard Pinot Noir
open for the public, and it was love at first bite! What a pairing, it's not often that a simple taste of food washed down with wine makes us do a happy dance while eating! 
We haven't strayed far from the recipes posted on
www.LibertyDucks.com
, which are fool-proof. From their kitchen...
Liberty Duck Breast (1 package to serve 4):
Split the attached breasts for 4 pieces total and trim off the loose skin and fat (set aside, and see below for use).
Make a dry rub "Love Rub"
Score the skin with a few cross hatches, just skin deep, and rub with spices all over the duck breasts.
Fry skin side down to crisp in a heavy pan to render the fat and crisp the skin.
At this point, you can set aside the duck for up to an hour or refrigerate to finish cooking later.
To finish cooking, place breasts (skin side up) in a preheated 500 degree oven or in preheated pan for 4 or 5 minutes (best to serve Liberty Duck Breasts medium rare). Let rest 5 minutes, then serve. 
Love Rub:
2 Tablespoons Paprika. 1/2 Tablespoons Coriander.1 Tablespoon Chili Powder. 1/4 teaspoon Cayenne1 teaspoon Chinese 5 Spice. 1/2 teaspoon Cumin. 1/4 teaspoon Cinnamon. 1/4 teaspoon Nutmeg. 2 Tablespoons Kosher Salt. 8 Tablespoons Brown Sugar. 1 teaspoon White Pepper. 1/2 teaspoon Black Pepper. 2 teaspoons Oregano. 1Tablespoon Thyme 
And for those of you still eating Carbs, here's the pot of gold...Liberty Yukon Golden Potatoes:

Render duck fat trimmed from breasts earlier by melting it in a hot pan.
Cut 2 or 3 Yukon Gold Potatoes into slices or 1" cubes.
Fry potatoes in the rendered fat until golden brown.

We enjoy a dab or two of Dijon Mustard with the potatoes. Oh and a bottle of the 2014 Thorn Ridge Vineyard Pinot Noir  was made for Liberty Ducks! - Eric and Ali
 
---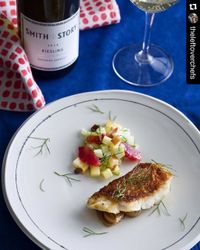 Our LA friends Loren and Annie (
@theleftoverchefs
) sent us this Riesling inspired dinner photo... cooked and created by this fabulous couple in the kitchen! 
Smoked Catilina Island Sheepshead
Mixed apple and fennel salad, pickled raisins blood orange and brown butter shallots.
...and Annie caught the fish! 
We wish we lived closer, Cheers!   - Eric & Ali
---
MASSAMAN PORK ... pick a cozy fall day to prepare this dish which pairs magically with our 2014 Smith Story Wine Cellars German Riesling. Oh and we sipped on our 2014 Sauvignon Blanc during prep!  - Eric & Ali

INGREDIENTS 
SERVINGS: 8
    • 1 tablespoon vegetable oil
    • 1 4–4½-lb. pork loin, cut into 10 pieces
    • Kosher salt
    • 4 medium Yukon Gold potatoes (about 1½ lb.), quartered
    • 2 medium red onions, cut into wedges
    • ¾ cup Massaman Curry Paste (click for recipe)
    • 12 oz. Belgian-style wheat beer
    • 4 13.5-oz. cans unsweetened coconut milk
   • 2 cups low-sodium chicken broth
    • ½ cup fish sauce (such as nam pla or nuoc nam)
    • ¼ cup fresh lime juice
   • 1 tablespoon palm or light brown sugar
    • 1 teaspoon red chile powder
    • Freshly ground black pepper
    • Cilantro sprigs, fried shallots, roasted peanuts and cooked rice (for serving)
DIRECTIONS
Time...ACTIVE: 45 MINTOTAL: 2 HOURS 45 MIN
    • Heat oil in a large heavy pot over medium-high heat. Season pork with salt and cook in batches, until golden brown (do not turn), 8–10 minutes; transfer to a plate.
    • Cook potatoes in same pot, turning occasionally, until brown, 8–10 minutes; transfer to another plate. Cook onions in pot, stirring occasionally, until golden brown, 5–8 minutes; transfer to plate with potatoes.
    • Add curry paste to pot and cook, stirring, until fragrant, about 4 minutes. Add beer. Bring to a boil, reduce heat, and simmer until reduced by half, 5–7 minutes. Add pork, coconut milk, and broth. Bring to a boil, reduce heat, and simmer until pork is very tender, 1–1½ hours.
    • Return potatoes and onions to pot and cook until potatoes are soft, about 30 minutes. Remove from heat and mix in fish sauce, lime juice, palm sugar, and chile powder; season with salt and pepper. Top with cilantro, peanuts (optional) and shallots. Serve with rice.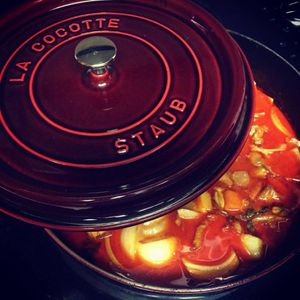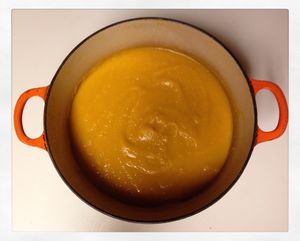 A Perfect Fall Pairing with our 2014 Sonoma Coast Chardonnay

Butternut Squash and Apple SoupINGREDIENTS
1 tablespoon unsalted butter
1 tablespoon coconut oil
1 medium onion, chopped
1 butternut squash (about 2 pounds), peeled, seeded, and chopped
1 golden apple, peeled, cored, and chopped
2 teaspoons coarse salt
1/2 teaspoons ground cinnamon 
1/2 teaspoon ground nutmeg
1/2 teaspoon ground ginger
2  teaspoons apple cider vinegar
1/4 teaspoon freshly ground black pepper
2 cups homemade or store-bought low-sodium chicken or vegetable stock
2 1/2 cups water, plus more if needed
4 roasted pecans for garnish (optional)
cream fraiche or greek yogurt for garnish (optional)

DIRECTIONS
Melt butter & coconut oil in a large saucepan over medium heat. Add onion; cook, stirring occasionally, until it begins to soften, about 4 minutes. Add squash, and cook, stirring occasionally, until soft, about 10 minutes.

Add apple, salt, nutmeg, cinnamon, ginger, black pepper, stock, apple cider vinegar and the water (just enough to cover). Bring to a boil. Reduce to a simmer, and cook until vegetables are very soft, about 30 minutes.

Puree in batches in a food processor or blender until smooth, and return to pot. Heat over low, thinning with more broth if necessary. To serve, ladle into shallow bowls; garnish with roasted pecans, and cream fraiche if desired.(we also love a swirl of aged balsamic vinegar!)
This soup is a fall staple in our house. It's also fun to switch out the apple, nutmeg and cinnamon with cumin, yellow curry paste and a can of coconut milk. When we do this we skip the pecan garnish too. Enjoy!  - Eric & Ali
---
Our 2014 Riesling
, so many options to pair with this food-friendly somewhat dry, somewhat sweet, mineral driven G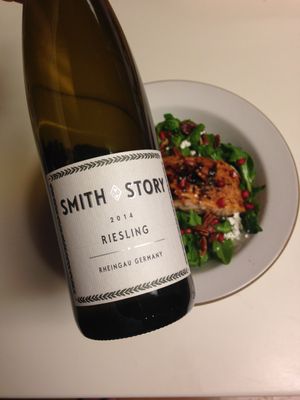 erman Riesling! After testing a few recipes over the past month or so, here's one of our favorites...so easy that we've have whipped this up a dozen times since. Cheers! - Eric & Ali

Salmon with Pomegranate, Roasted Pecans and Arugula Salad
INGREDIENTS
4 salmon fillets (suggest 6oz, 1/2 inch thick - bones removed!)
1/4 cup roasted pecans (these can be made ahead), roughly crushed.
2 cups pomegranate seeds (cut a fresh pomegranate in half, hold each half over a bowl and whap with a big wooden spoon for seeds to fall out, discard membrane)
2 tbsp. soft goat cheese
6 tbsp. extra-virgin olive oil, divided
2 tbsp. aged balsamic vinegar
1 tsp. Dijon mustard
1 1/2 chopped fresh thyme leaves, divided
1 small garlic glove, minced
3/4 tsp. ground sea salt
1/2 tsp. pepper, divided
6 cups of baby arugula
4 lemon wedges 
DIRECTIONS
Preheat broiler with the top rack set about 3 inches from the heat. Toast pecans in a medium frying pan over medium-low heat until golden - don't let them burn so keep stirring about 5 or so minutes. Remove to cool.
Place salmon on a rimmed baking sheet, keeping space between the fillets. Drizzle salmon with the 1 tbsp. olive oil, 1 tbsp. balsamic vinegar and sprinkle the 1tsp. thyme and season with both salt and pepper. Turn the salmon to coat, placing  skin-side down (if you kept the skins on). 
Broil until the salmon is a tiny bit golden around the edges, leave a bit rare in the center for 4-6 minutes (we slice into one to check). The fish will continue to cook as they rest out of the oven. Transfer to a platter sprinkling the rest of the thyme on top.
In a small bowl, whisk together the remaining olive oil, balsamic, mustard and garlic. In a large bowl toss the arugula with the 1/3 of the dressing, goat cheese crumbs and 1/2 the pecans.
Arrange the salad, placing the salmon on top of the arugula then combine the pomegranate seeds with the remaining pecans to spoon over the fish. Serve the remaining dressing on the side along with a lemon wedge - we like to squeeze a small amount of lemon juice over the fish and salad once plated. 
Open a chilled 2014 Smith Story Wine Cellars Riesling and pour into a nice glass!
---