Eric Story here today, it's been awhile since our last email. Everything is cool, busy busy and Ali is feeling strong while making it through her treatments this summer. I've been rolling solo in the tasting room on the weekends, like my fun-loving wife says, "2021 is bananas babe!'. I totally agree. Nothing like year two of working in the hospitality and wine industry during a global pandemic. Thank goodness for GREAT WINE! 
Smith Story Updates: 
2021 Fall Wine Release: We've opened our Storytellers Wine Club membership and welcome new Storytellers right now in particularly. We say this for darn good reasons, and membership benefits are about to hit an all time new crazy new level. More on this in the coming weeks.
Our wines are small batch releases, so a "waiting list" to join The Storytellers may be in cards sooner than later. To join and to update your current membership 2021 Fall Release includes: 2018 Cabernet Franc and 2018 Cabernet Sauvignon. Also, our Storytellers will receive our Smith Story Brut with tremendous savings for "Tuesday Taco" nights and your high-brow holiday celebrations. 
Visiting our Anderson Valley Tasting Room: All tastings are conducted outside, masks on when walking around and if you come inside for extra shopping. We are doing our very best to protect our guests, ourselves and our dear community. To reserve your tasting please see the VISIT page for details. Walk-ins are welcome if we have the room, shopping and online wine order pick up is open 11-4pm Thursday-Sunday. 
Ask for Smith Story in these US wholesale markets: Massachusetts, Rhode Island, Delaware, Maryland, Virginia, Washington DC, North Carolina, Texas and California. We hope to see Oklahoma & Colorado open up again soon and new distribution in Hawaii next. 
Harvest 2021: It's a slow roll this year due to the draught. Smaller clusters everywhere and veraision has begun in our red wine vineyards. Today we're seeing high elevation smoke from the devastating Dixie fire in the far NE of us. So far, we are smoke and fire free in all our NorCal AVA areas. I'm eager to get back to a healthy harvest this year! 
Smith Story Sustainability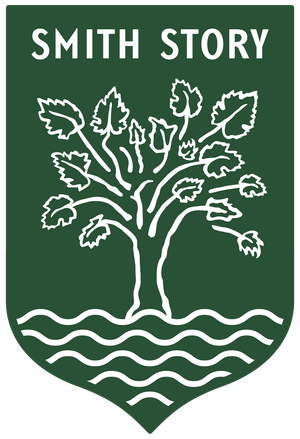 100% of our Smith Story Wine Cellars Vineyard partners practice sustainable and organic farming. It's been a dream come true for us! 
We welcome our newest family vineyard partner in the Russian River Valley… Pellegrini's famed Olivet Lane Chardonnay.
Thank for taking the time to read this today, extra thanks for telling others about Smith Story Wine Cellars and forever thanks for keeping my wife and I in your hearts.
- Eric