November 15, 2021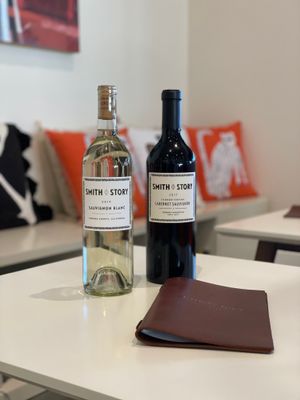 Ambition and Dreams Without a Plan is Just a Wish. 
Next level Smith Story Wine Cellars!  Our new Healdsburg tasting salon is now open. We are accepting reservations through March for wine tastings Thursday through Monday 11am-3pm. No need for reservations when stopping in for shopping or to say hello of course! We are also shipping online orders from here this year, you should place your Thanksgiving wine orders no later than today honestly. 
Eric and I are beyond thrilled to host you in our new location inside the fabulous Bacchus Landing complex, a few minutes west of downtown Healdsburg. A quick turn off of Highway 101 to Westside Rd. to Bacchus Landing Way. Details now updated on our VISIT page. 
Closed Thanksgiving Day. Dec. 20-27 and NYE. 
Our most asked question...will you continue to make wine from the Anderson Valley and Mendocino County? YES!  We are hardcore fans of the vineyards in these precious AVAs and look forward to expanding our offering over the years to come. Both of us now go back 20 years of breathing in and out of this magical region. 
2021 Holiday Bazaar 
Saturday, December 4th from 11a to 4p. Bacchus Landing (where our new tasting room is located) is hosting 25-30 local retailers and artisans who will be showcasing gift ideas for sale for every member of your family, friends and co-workers. 
In addition to our wine offerings, Smith Story will have complimentary gift wrap + winery dog books, vintage glassware and home decor for sale.  Come shop, sip and enjoy holiday music performed live on the Piazza. No Reservation Required. 
Nearing End of Vintage 
2019 Smith Story Sauvignon Blanc inventory is nearing sold-out. We will not have another Sauvignon Blanc until we bottle our new 2021 in Spring 2022. You may place an order to have this gorgeous wine shipped or to pick up in Healdsburg from our Wine Shop page. 
Smith Story Wines are also active in our 3-tier wholesale states, Texas, North Carolina, Massachusetts, Rhode Island, DC, Maryland, Virginia, Delaware and soon to be Maine. Each state has a few of our wines plus Lord Sandwich Red/Blanc - just ask your favorite restaurant, wine bar and/or wine shop! Oh... and NorCal fans, look for a few Smith Story wines in Costco soon in the wooden bin section. HUGE for our family winery! 
Second most asked question these days.. 
How's Ali doing? Besides looking/feeling weird, I'm doing great. My labs are normal and am on my last 3 weeks of infusions. Scans are clear and so are pathology reports. January will be a last step in preventing future spread with radiation. It's been one hell of a year on my body but thankfully my heart and mind have been full of love and determination to not only beat breast cancer but to come out of this year stronger than ever. Thank you so very much for all your cards/gifts and sweet messages, they have meant the world to me and Eric. - Ali 
Peace and Love, 
-The Storys 
PS: Don't forget your Smith Story Sparkling Brut for the holidays!