June 21, 2022
We are often asked for day-trip ideas, places to go, things to see and new wines to sip.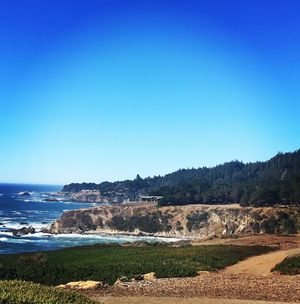 Here's a day we've been enjoying for years now. Before we started Smith Story, this was a relaxing Sunday drive and fun adventure, the memories of first holding hands in the car along these scenic routes seems like just yesterday. 
Day Tripping - Sonoma Coast Route
From our Smith Story tasting room on Westside Rd. at 14201 Bacchus Landing Way, Healdsburg. 
Take Westside Rd. (home to many incredible wineries) to River. Rd. heading West. A morning stroll through Armstrong Woods is our favorite forrest bath around.
Lunch spots in Guerneville, Boon Eat + Drink then a scoop of delicious ice cream at Nimble & Finns located inside the historic Guerneville Bank Club. 
Continue on towards Jenner, a must stop to dilly-dally is the tiny village of Duncan Mills. It's full of small businesses from books to vintage treasures like our friend's shop Alta California Provisions. The coffee is delicious across the way by the train depot too. 
Here's where it gets tricky! You can head North or South from Duncan Mills to Hwy 1. 
Head North to explore Fort Ross State Park and/or make a tasting appt. at Fort Ross Vineyard. Ali represented this stunning winery for years back in Texas and they have remained a favorite. 
Drop into Timber Cove Resort for the view and a charcuterie board while relaxing in their iconic great room overlooking the pacific ocean. Heck, make it an overnight or three sleeps here, you won't be sorry! 
The other way: From Duncan Mills heading south on Hwy 1. Pullover to hike the gorgeous beaches and cliffs, Goat Rock is simply stunning each and every time we visit. Sunshine or fog, this is a magical part of the country year round to enjoy. Dillon Beach is our favorite beach when Lord Sandwich is with us, dog friendly and full of sand dunes & fishing spots to explore. 
Traveling through Bodega, if you need a nosh head out to Spud Point Crab Company for local seafood and a stroll above the marina for a 360 view of Bodega Bay.
Leaving Bodega allows options to head back to Healdsburg on Hwy 101 North or jump on 101 South through Sebastopol. So much to explore at The Barlow. We always enjoy dinner back in Santa Rosa at Willi's Wine Bar and/or The Spinster Sisters. Both are approx, 15 minutes south of Healdsburg. 
Leaving Bodega heading south towards Petaluma from Hwy 1: Catch our friends at Barber Cellars before close! Mike Barber and Eric worked together at K&L Wines for years. Good people and very good wine across their vineyard to bottle portfolio.  
Always a great stop before you cross the Golden Gate Bridge is Cavallo Point. Stretch your legs hiking around the marina before heading over to the Farley Bar for a light meal on the porch overlooking the great City by the Bay. If you are lucky, the fog will be rolling through the bridge, fog horns filling the air and cargo ships floating in and out of the bay. It's a fantastic place to watch the world go by. Another wonderful place to book overnight too.
If back in Healdsburg by sunset, the newly remodeled terrace at The Madrona is the perfect place to relax with a cocktail and your love. Located 30 seconds from our tasting room and Bacchus Landing too. 
Leave early, get home late. You won't regret this day trip or two or three! 
 - Eric & Ali