November 3, 2022 
It's National Sandwich Day!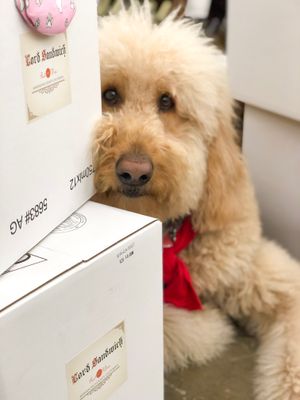 As many of your know, I was named a couple of years before I was born ... my Ali was hungry late one night driving home from a work event. She thought it would be so fun to have a dog named Sandwich one day.
So fast forward to 2012 the year I was born and my humans have never been the same! They often tell my story and say that I've connected Smith Story Wine Cellars and my SocksforSandwich.org with the best people on the planet. Hosting guests and occasionally sitting on them is my favorite part of the gig. See you soon on IG (SandwichtheDoodle) or in person, thank you for being a fan. 
- Lord Sandwich "Sock Thief" & "Words Best Winery Dog". 
The 2021 Lord Sandwich Blanc and NV Lord Sandwich Red Table Wines continue to be our best selling bottles by volume. A real treat with each sip, which also allows us to give new socks to humans in need. Giving is fun!