Springing forward today has a deeper meaning this year. Slowly rising from these past two years together,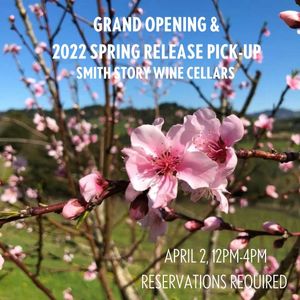 we lose an hour, but what's 60 minutes when we've made it thus far? So here we are, tentatively stepping toward post-pandemica, daring to hope now, truly, for a big, steadying, and richly appreciated dose of normal among new uncertainties throughout the world.
It's our hope that the 2022 Smith Story Spring Wine Release offerings are a welcomed elegance in your glass as we begin a new season...once again together. 
---
YOU ARE INVITED 
On Saturday April 2, we're hosting our Grand Opening and Spring Wine Pick-up at our new Healdsburg, California tasting room. The legendary Glen Ellen Star will be serving numerous spring bites as well as local oysters and seafood. Tickets are $45pp which also includes a glass each of our 2021 Smith Story Sauvignon Blanc, Sonoma County and 2019 Smith Story Helluva Vineyard, Pinot Noir, Anderson Valley. 
Our venue is spacious both indoor and outdoor and guests are welcome to come and go throughout the afternoon. Please note, we love your dogs so much, but this day is for adults, Lord Sandwich will be sitting this one out too.  Please reserve your tickets here on Tock. 
Purchase the 2022 Smith Story Spring Wines 
Members of The Storytellers Wine Club have secured their orders. Mailing list members have purchased and now the remaining small amount of inventory is open for new Smith Story wine lovers to discover. Wines will begin shipping in a few weeks and our very first "Grand Opening and Spring Pick-up" is planned. 
This single vineyard release is so special for us and for our Sauvignon Blanc and Helluva Pinot Noir fans. Largely due to the smallest size production of our Sauvignon Blanc ever, coupled with the last time we are offering a Helluva Vineyard Pinot Noir. 
The 2021 Smith Story Sauvignon Blanc, Sonoma County is 100% from our Sonoma Mountain vineyard partner, an organically farmed, mountaintop vineyard we've worked with since our first vintage in 2014. It's an incredible Sauvignon Blanc that is drinking fabulous now and will also cellar well for years to come. This 2021 SB is one for the ages!  $30 a bottle. 
The 2019 Smith Story Helluva Vineyard, Anderson Valley is also a very special single vineyard offering this spring release. Those familiar with our Helluva Pinot Noir will find consistency in the wine. Bright, vibrant and juicy Pinot Noir! A perfect red as we begin approaching the warmer months ahead. $50 a bottle. 
Further details about the 2022 Spring Wines are located on the website here. 
Shipping Reminders 
• Spring Release Wine orders will begin shipping on Monday, March 28th. 
• If temperatures are too cold or too warm in your area for safe shipping via ground, your order will be held here until weather cooperates. 
• Please double check the delivery address on your account. 
• Signature by someone over the age of 21 is required. 
• Returned orders will be destroyed or you may elect to have your order re-shipped with new shipping fees applied. 
Thank you for your continued support of our first generation family winery. 
Peace and Love, 
Eric and Ali Story 
Est. 2013 
Smith Story Wine Cellars