Introducing the 2018 Hot Brands from Wine Business Monthly: SMITH STORY WINE CELLARS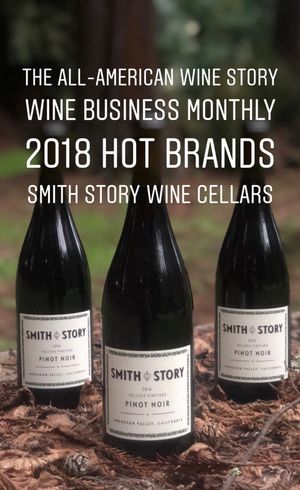 "The All-American Wine Story" 

We are excited to finally announce our BIG NEWS to you today. Wine Business Monthly (the premier wine industry news source) selected Smith Story Wine Cellars as a 2018 Hot Brands! We've known for awhile now and had to keep the news under wraps until their publishing date. 
"Every year, when Wine Business Monthly creates our annual list of Hot Brands, we look for vintners, growers, wineries and wines that are making a statement in our industry..." Erin Kirschenmann, Senior Editor, Wine Business Monthly. Read more here. 
Our winery began on paper a short 6 years ago, we're profoundly honored to be recognized as an industry leader in making things happen in 2018. The journey has been tough, we have stayed the course with all our might. Last night over glasses of our stunning Helluva Pinot Noir we reflected on the past few years together. Oh we are so humbled and proud of our accomplishments and grateful for you - our people who fiercely want to see us succeed! 
We were also reminded yesterday of the following scripture posted by a fellow winemaker in Healdsburg and it certainly spoke to our hearts and has been the path for the Smith Story Wine Cellars journey.  "Finally brothers, whatever is true, whatever is honorable, whatever is just, whatever is pure, whatever is lovely, whatever is commendable, if there is any excellence, if there is anything worthy of praise, think about these things." Philippians 4:8 (ESV). 
Smith Story Wine Cellars is becoming the world-class-winery we deeply desired to create from the very beginning. Thankful for our family farmers and the integrity of all of our business partners who've stayed loyal to the land, the craft, the details and most importantly believed in us these first few years. 
Raise a glass of the Smith Story Helluva VIneyard Pinot Noir soon for us, we're toasting to you all! 
This is Our Story. 
Love, Eric & Ali
PS... as of 2:45pm today, 2016 Smith Story Helluva Vineyard Pinot Noir inventory is available via our purchase page on the website.