Hi everyone, oh I'm back! 
I've missed writing to you and storytelling so much these past 11 months during my breast cancer treatments. Today I feel the best I have in a very long while. I'm turning fifty-years-old in a few months, and reflecting on so much these days. In particularly as a winery owner over the past eight years and as an entrepreneur in this business for nearly two decades now. A little story for you all this last Friday of the month… 
"The most difficult thing is the decision to act, the rest is merely tenacity." - Amelia Earhart. 
It was the early 80's, must have been around my 2nd or 3rd grade year, I played Ameila Earhart in my school play. I can still sing the tune "Lady of the Air, my Ameila" on pitch! A song that surrounded that springtime play about America's first female aviator to fly solo across the Atlantic Ocean. True Story. 
Like Amelia, tenacity has been my superpower (and really good coffee these last few years!). I am certain I was born tenacious until JAWS hit the box-office during my childhood swimming lessons. For fifty years now swimming in deep water has not been my thing, however, I've become a fantastic boater and floater. Hours upon hours of fishing with my grandfathers and daydreaming under a big blue sky. I was determined to beat my fears and found a relaxing way to enjoy the water afterall. 
When Eric and I eloped in 2013 and began telling the world that we were starting a new winery together we had a rock solid plan. Having years of wine industry experience behind us gave us the courage to act on our mutual dreams. You often hear about how we regret the things we don't do more than the things we do. We did it! 
Looking back over these past first years of Smith Story Wine Cellars, plans had to change and this belief and courage shined through whatever challenge we've encountered along the way. The struggles made us stronger and have made us so proud after conquering with great determination. 
"The fears are paper tigers. You can do anything you decide to do.".  Amelia Earhart 
Heading into this new year hoping the extreme world of covid will soon be in the shadows, Smith Story has an exciting year ahead. New wines releasing in 2022, a solid distribution expansion and growth, incredible sales from NorCal Costco and joyful new beginnings in our new Healdsburg location. Oh and I've beat cancer (tenacity strikes again)!  Already this year feels like a gift that tenacity has created for us to finally unwrap. 
I hope our story continues to inspire you. Eric and I are quite honored to be making and selling wine for a living in these unprecedented times. Starting and running the winery has been a life changing experience for the two of us and so very worth it. With deep gratitude, thank you for supporting our family winery and being a part of Our Story. 
Peace and Love, 
- Ali 
————————————
DON'T FORGET! 
Sparkling wine and chocolates are staples forValentine's Day, so we partnered with local Fleur Sauvage Chocolates to bring you a special treat this year. 
Complimentary Chocolates 
Simply place a order that includes a bottle of our lovely Smith Story Sparkling Brut and receive a five-piece gift box of Fleur Sauvage artisanal chocolates on us! 
Orders must be placed by February 2 for arrival before February 14. You may also choose to pick-up in Healdsburg. We hand-selected flavors that pair well with our sparkling wine. A hard task, but we got through it! 
Valentine's Weekend. 
Our first wine and food pairing in our new Healdsburg tasting room. Please make a reservation with us for a coastal dungeness crab cake pairing. 
$45pp, includes 2 mini-dungeness crab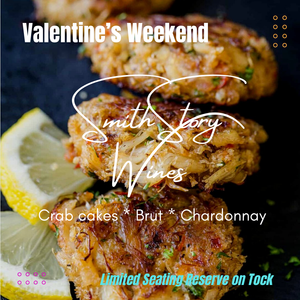 cakes (with meyer lemon tartar sauce) paired with 2 Smith Story wines...our Mendocino County Brut and a very special library offering of our 2015 Smith Story Sonoma Coast Chardonnay. Seating is limited to 50 reservations over Saturday & Sunday, February 12 & 13, 2022.  Plenty of relaxing outdoor space here at Bacchus Landing too. 
Reserve on TOCK under Events  PS. Oh yes, you may add a full tasting or order a glass/bottle upon arrival.