December 26, 2022 
As the year comes to a quick close, please pour a glass with us as we reflect back on the good news 2022 brought to Smith Story Wine Cellars. This year was a challenging one for a small winery in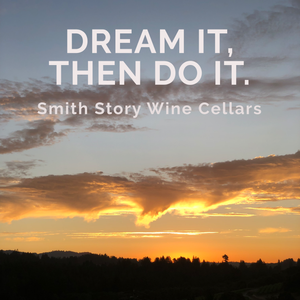 many regards, but the silver lining prevailed once again ...and that had everything to do with each of you. Thank you for your loyal and continued support. We raise our glass to you!  
Our guests, customers, wholesale teams and fine wine establishments who support us are "an absolute delight" (yes, Dusty is often blown away from y'all, "I've not witnessed such genuine kindness before").  We are so fortunate!  We all look forward to seeing you and meeting new friends in the new year. 
SMITH STORY SNIPPETS: 
*From now through January 31st, all tastings are complimentary. Please reserve on TOCK 
so we can make proper plans to see you. 
*The "new" Vintage 1896 German piano is being tuned in January and we have a dozen wonderful events and occasions that will make your visit with us extra special in the coming months. 
*Ali's also on the road in Texas, North Carolina, Palm Springs, Seattle and Colorado before summer begins! 
*Keep the Happenings page bookmarked as we are adding interesting Smith Story occasions all of the time. 
*Also please keep in mind that our tasting room and patio is often available for private rental, details here.
The 2023 Wine Releases are going to be EPIC too with our deeply loved new release Sauvignon Blanc, new 2021 Chardonnay release from the legendary Olivet Lane Vineyard, Lakota's View Sémillon is returning, a new Russian River Zinfandel, the new 2021 Boonies Pinot Noir from the Deep End of the Anderson Valley and our new white Rhone blend that is our first cement egg fermented wine in the history of Smith Story...and this is just a few. So Exciting!  
For those asking about LUCKY 22 promotion numbers, we missed our goal by a few hundred cases but hope you'll take advantage of joining The Storytellers for your wine savings now and/or pick up your favorites in person in Healdsburg to enjoy this winter. 
It's been a  fun and heartwarming season seeing you share Smith Story Wines with loved ones during the holidays, this is exactly what "The Spirit of Smith Story" is all about. Cheers to a Very Happy New Year!  
Peace and Love, 
Ali and Eric Story  
---
OPEN IN HEALDSBURG: 
Dec. 27-30. 11-5pm. Find us at Timber Cove Inn on the beautiful Sonoma Coast in Jenner on the afternoon of December 31 for a pouring with Lord Sandwich too. Closed New Year's Day all week then open the afternoon of Saturday, January 7 12-4pm with LIVE MUSIC on the Piazza at Bacchus Landing. Closed on Sunday, January 8th.  
---
100 Amazing Wines
100 amazing wines press democrat features smith story The Press Democrat published 100 Amazing Wines. Over 2000 wines were evaluated for this list and our 2021 Smith Story BRAVE, Carbonic Syrah made the cut! 
Wine Expert Linda Murphy also praised our 2019 Smith Story Cabernet Franc and Smith Story Pickberry Vineyard Cabernet Sauvignon. This local Sonoma County feature means the world to us as 2022 comes to an end. 2021 Smith Story, BRAVE, Carbonic Maceration, Syrah, Sonoma Mountain Please note the 2021 BRAVE, 2019 CABERNET FRANC AND 2019 CABERNET SAUVIGNON WILL ONLY BE AVAILABLE TO STORYTELLERS AFTER DEC. 31.