AUGUST 2, 2023
Time is flying this year! It's been a busy summer for us here in Healdsburg and working new wholesale markets. Harvest 2023 is looking good, a little behind previous years due to such a cool and rainy start to the year. Sir Soup continues to win our hearts, he's now six months old and weighing 60lbs! Last week we gathered with our Smith Story Goes to Greece travelers in preparation for our wine and food adventure next month. A record number of new Storyteller members have joined us, we have room for less than 20 new members for our 2023 Fall Wine Release. Details below.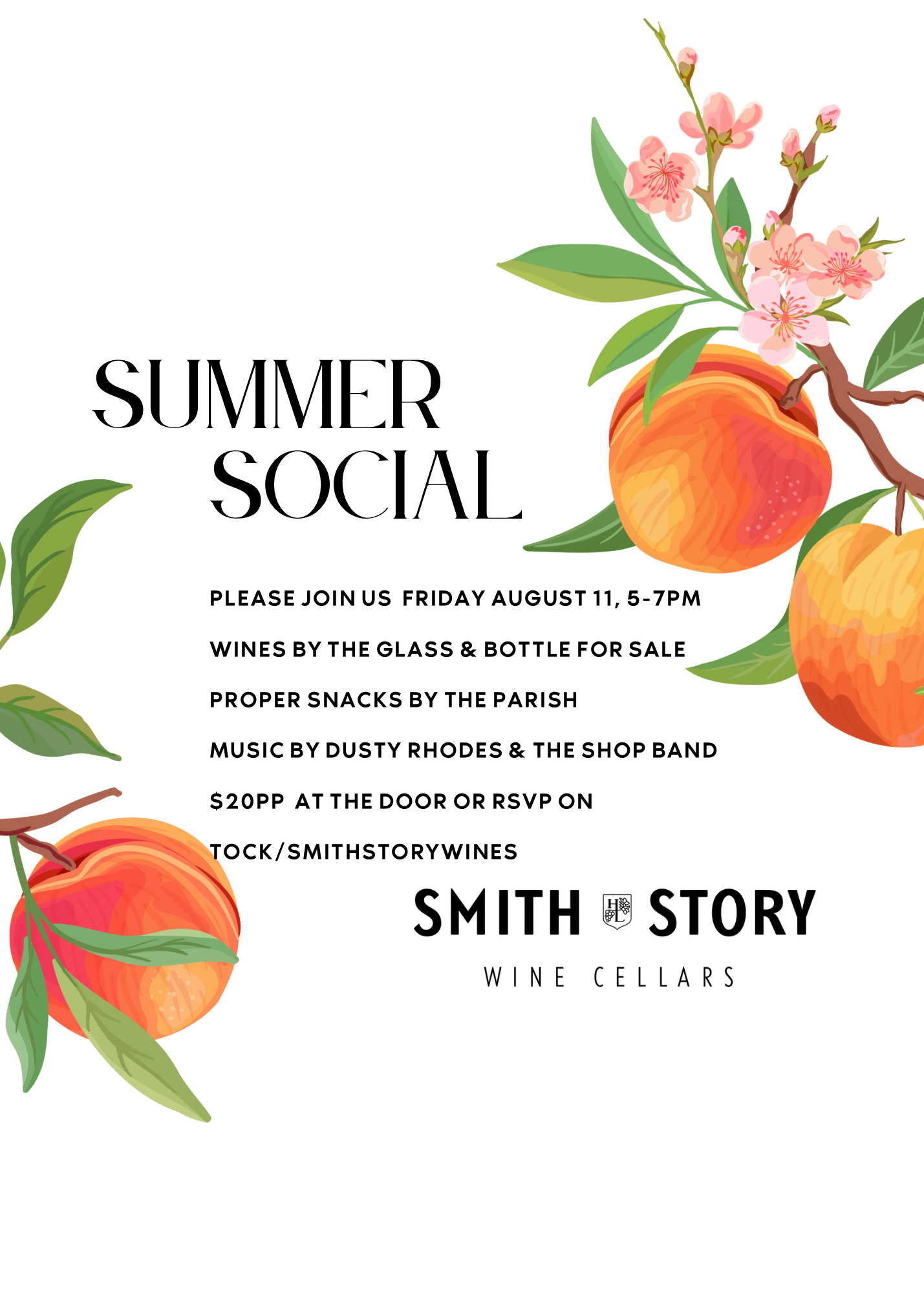 Thank you so much for supporting our family winery and sharing the Smith Story. What a joy to have you by our side. -Ali & Eric
---
AUGUST HAPPENINGS
SATURDAY 5TH: MUSIC ON THE PIAZZA AT BACCHUS LANDING. HEALDSBURG, COMPLIMENTARY.
SUNDAY 6TH: ALOHA HAWAIIAN BBQ, CAVALLO POINT, SAUSALITO SMITH STORY (AND SOUP & SANDWICH) ARE POURING DETAILS/TICKETS
FRIDAY 11TH: SMITH STORY SUMMER SOCIAL, $20PP, COMPLIMENTARY FOR STORYTELLERS. NOSH ON BITES FROM THE PARISH & LISTEN TO OUR OWN DUSTY ANN RHODES & THE SHOP BAND! TO RSVP
SUNDAY 13TH: FAMILY WINEMAKERS TASTING, SMITH STORY IS POURING AT JACK LONDON SQUARE, DETAILS/TICKETS
WEDNESDAY 16TH: UNIVERSITY CLUB OF SAN FRANCISCO.PRIVATE SMITH STORY TASTING.
THURSDAY 24TH: MICHAEL J. FOX FOUNDATION FUNDRAISER,(WE'RE OPEN!) BACCHUS LANDING, HEALDSBURG. DETAILS/TICKETS
Thursday 31st: Storyteller's Deadline to confirm 2023 Fall Wine Release Shipment.
---
2023 SMITH STORY FALL WINE OFFERING
Our most exclusive release. Due to very small production and limited library wine releases, there are less than 20 spots available for new members. After September 1, remaining 2021 Smith Story Olivet Lane Chardonnay will be allocated to mailing list members.
DETAILS ON EACH WINE POSTED HERE
Join The Storytellers for access to three single vineyard wines along with savings benefits on your purchases + a few more goodies.