HELP US MEET OUR END OF YEAR GOAL OF 2022 CASE SOLD IN 22 DAYS.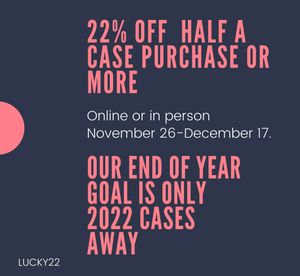 Use the coupon code: lucky22 when purchasing half a case (6 bottles) of wine or more for 22 days to receive a 22% savings. 
Storytellers also receive shipping discount benefits. 
Place holiday orders with friends and family.
Share the Smith Story with your world on social media. 
Once the 2022 case goal is met, every LUCKY22 customer will also receive a bonus of a complimentary tasting for 2 in Healdsburg.