October 12, 2021 
AN OPTIMISTIC MINDSET. 
We had the pleasure of hosting Elizabeth Shaw, author of The Optimist's Manifesto last weekend in Philo. The quote on page 1 spoke to us both... "When you are optimist, life has a funny way of looking after you."  - Simon Sinek. Right on! 2021 marks our first wildfire-free harvest since 2016. Thankful to have our 2021 fruit in this year with no smoke taint or fires keeping us from making Smith Story Wines here in Mendocino and Sonoma Counties. The quality this year is superb while the yields were lighter due to the severe drought. Eric's focused in the cellar now as we both work on opening our new tasting room in Healdsburg. Next level Smith Story Wine Cellars baby!! 
NOW SHIPPING 
Cooler temperatures have arrived and Summer/heat holds and Fall shipments are shipping out as we watch the temperatures drop in regions across the USA. Right now, many of the orders heading to Houston and the south east area of the US are on hold a few more weeks.  If you selected Anderson Valley pick-up our hours are limited in Philo so please email us ahead of time. Orders that are not picked up this month will easily be available in the new Healdsburg tasting room. 
This year the holiday season is becoming a challenge due to lack of US trucking, shipping containers stuck in the water (with supplies) and other Covid related bottlenecks. Get ahead of the mess and please place your holiday and corporate gifts orders as soon as possible. US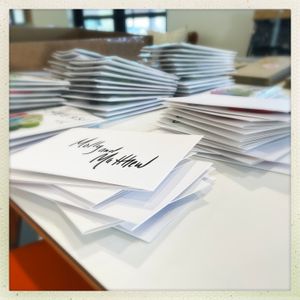 wineries are up against a very tight 4th quarter shipping window and dwindling wine shipping supplies. 
Smith Story Wines are also active in our 3-tier wholesale states, Texas, North Carolina, Massachusetts, Rhode Island, DC, Maryland, Virginia, Delaware and soon to be Maine. Each state has a few of our wines plus Lord Sandwich Red/Blanc - just ask your favorite restaurant, wine bar and/or wine shop! 
HEALDSBURG TASTING ROOM UPDATE 
We hope to open our doors officially for tastings and shopping in November. Opening day is hanging on our permit to transfer from the Anderson Valley address. The new space bright has a very natural and luxurious feel. It's big enough to safely host 95 guests between our inside and outdoor patio spaces. A botanical mural is in the works along the outside patio walls as we wait for new furniture arrivals and Ali's design to come together inside. 
Oh we'll have a few library wine selections here along with chocolate pairings for our reserve tastings. It's going to be so much fun here! The address is 14210 Bacchus Landing Way, Ste. 200, Healdsburg, California. inside the stunning Bacchus Landing Cellars village. 
Oh and yes, we're hiring too. A superstar Hospitality Manager will be our first hire in our new Healdsburg location. Requirements include being a wicked reliable, smart and friendly human being, able to leap tall wine orders in a single bound while keeping wine service going with a smile. This person will report to Ali Story and eventually manage a small team. Oh and must love dogs and know a thing or two about what it means to farm and produce organic, sustainable single vineyard wines. 
WHAT WINE TO PURCHASE NOW? 
It's hard to pick just one, but the new and 4th release of the Lord Sandwich Red Wine is epic. A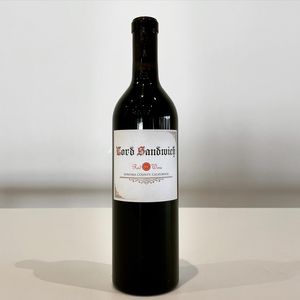 cabernet sauvignon driven bordeaux blend that is very impressive. $30 a bottle, less if you are a Storyteller.  Details and to purchase. Proud to be giving back locally this year to help provide "Angel Medical Care" to the Humane Society of Sonoma County and new sock donations to Healdsburg's Reach for Home too. 
Thanks for your time, you made it to the end of this email! Please continue to Share the Smith Story with your favorite wine loving friends and family. You are are the true reason we remain optimistic, the future is bright with your loyal support and enthusiasm for our first generation family winery. 
Peace and love, 
Ali, Eric and Lord Sandwich