September 22, 2022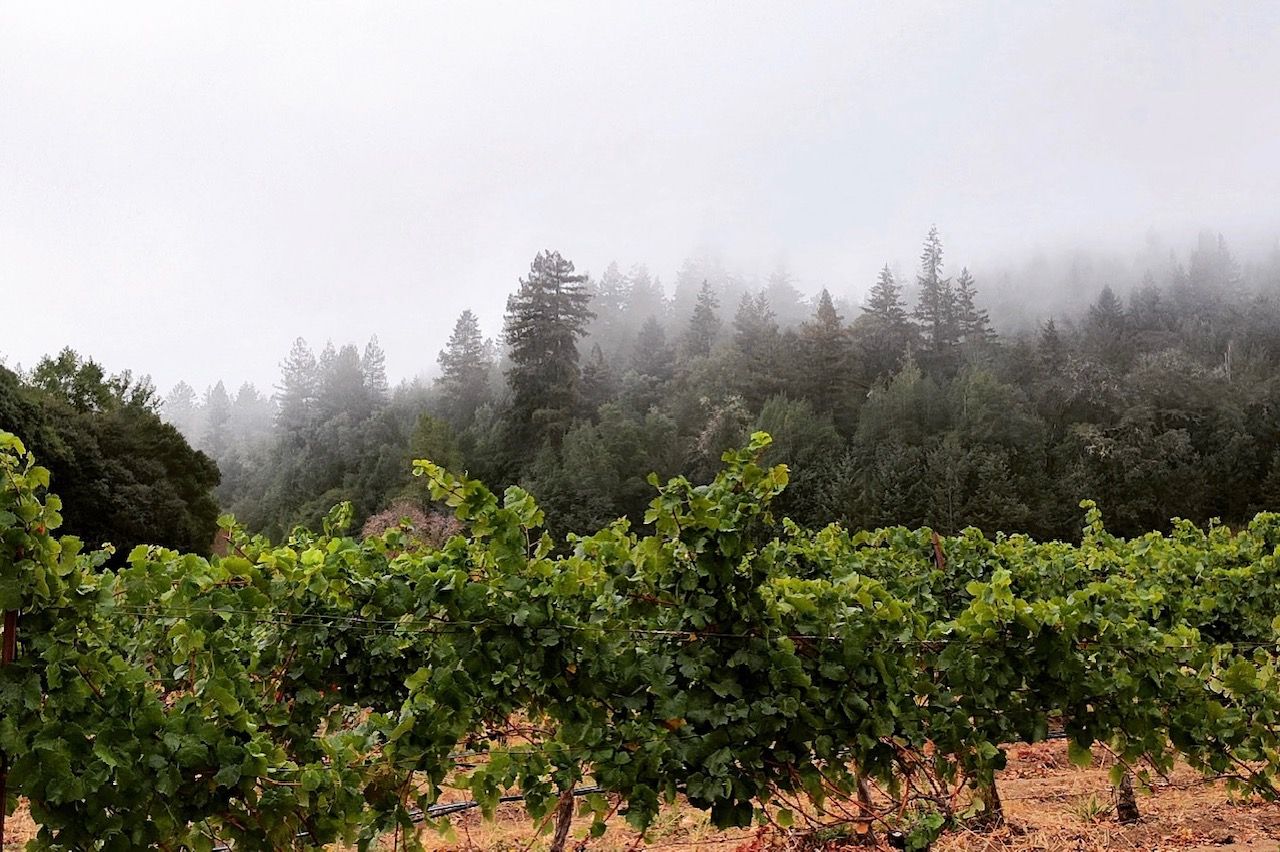 Greetings on the first day of Fall from Sonoma County! 
Harvest 2022 
We're in the home stretch! Would you believe we're waiting on the ground to dry a bit before we harvest our final pinot noir grapes from the Anderson Valley this weekend? Rain gushed last weekend! Those who've been with us since our 2017 Filigreen Farm Pinot Gris release may recall how special this vineyard is. Filigreen (pictured above, snapped by Eric this week) is the only biodynamic and organically farmed vineyard in the valley. An honor to have the vineyard back in our portfolio. We've also penciled in late next week our final grape harvest of the year, organic Cabernet Franc located in Hopland, approximately thirty minutes north of our Healdsburg tasting room.   
Speaking of Healdsburg 
Excited to share that Barndiva recently selected (four!) Smith Story wines for their wine list. We have very fond memories and enjoy meals here with friends and family for quite some time now. One of our favorite pairings over the years was our Smith Story Sauvignon Blanc and their crab sandwich! And speaking of seafood, last night the black cod dish at The Madrona was OUT OF THIS WORLD while sitting outside enjoying the blue sky change into bright pink at sunset. Both Barndiva and The Madrona are less than four-minutes away from us.
On a bummer note, Campo Fina has announced it will be closing their doors. Rent increases and cost of living are the cause. It's a gut punch to lose them, a true locals hang that so many of our out of town friends and guests have also loved over the years. We wish nothing but the very best for the entire Campo FIno family, and from the bottom of our heart, thank you so much.  
Smith Story Tasting Room Hours: Thursday-Sunday 11-5pm (last tasting is 4pm however). Wednesday is strictly appt. only at this time. The Smith Story tasting room is open for shopping without reservations of course, will-call orders for Healdsburg pickup is an easy selection when ordering wines online too. Don't forget us when needed a nice gift, wines, vintage glasses, old and rare poetry, vintage cookbooks, ice buckets, all sorts of treasures!  
We were recently encouraged and flattered by one of our family vineyard partners  "Smith Story is the best kept secret in wine country".  Well, um thanks, but sharing the Smith Story with many more wine lovers will certainly continue to help us grow.  So…how about it? Forward this email to a few dozen or so of your best wine loving friends. Repost our social media a few times perhaps. Tell your favorite restaurant and indie wine shops about Smith Story Wine Cellars. It matters. Thank you for your continued support of our first generation family winery. 
Peace and love,  
Eric and Ali Story 
---
As a reminder... 
2022 Smith Story Fall Wine Release ends on September 30.  Looking for a savings?
Easy to join the Storytellers online anytime.
 This blockbuster trio is now allocated to non-wine club members.  
Allocations are provided once you login to your profile on smithstorywinecellars.com  
Wines have begun shipping, please keep your eye out for tracking numbers from our warehouse.